Whether you are looking to progress in the field of software development, business analysis, digital design, UX/UI management, testing – in fact, any technological or digital discipline – Jumar has a range of career opportunities for you.

Who we work with
Jumar has the privilege of working with a range of organisations, including many globally recognised leaders in technology as well as small and medium-sized businesses, where we excel in the delivery of projects, teams, and individuals across the software development lifecycle and beyond.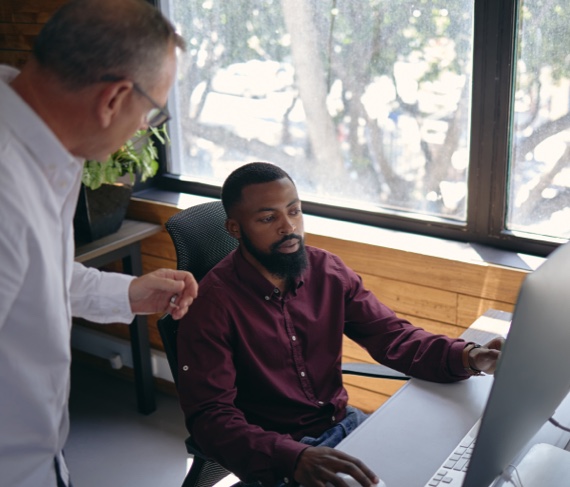 Our candidate promise
For more than 20 years, we have maintained a consistent philosophy: we do not treat candidates as commodities, and make it our mission to invest time in understanding you and your career goals and aspirations.
We will be approachable, accessible and personable, and we commit to keeping you fully informed, in control and feeling supported throughout your relationship with us.
You will have regular contact throughout the entire recruitment and onboarding process. We will ensure you're fully informed of the role, culture of the company, benefits, project plans and all other aspects of the opportunity.
You will always have access to advice and guidance. We will work with you to fine-tune your CV, provide interview support and advice on salary and market rates. Once you've started your new role, we will monitor your induction and ensure things go to plan. For contract placements, we will be in touch regularly to ensure all is well throughout the duration of your assignment.
Jumar hunted me out on LinkedIn and has found what appears to be a very interesting role! I was kept informed every step of the way, providing plenty of support pre and post interview. Thanks for all your help.
Pavan
Customer Support Manager
Think this may be one of the best experiences I've had with an agency in a long time. From initial contact, feedback and engagement, it's all been excellent.
Jeremy
Security Analyst
The onboarding process has been top notch. You can see that the well-being of contractors and how well they are settled with their place of primary assignment is a big priority for the team.
Oluwasegun
Test Analyst
Jumar is very well structured and professional and the staff are all experts in their field. No complaints at all.
Lesley
Senior Business Analyst
The recruitment process has been very good and I've liked the communication and speed in which it was completed and the support provided by the recruitment consultant throughout the process.
Pritpal
Product Manager
Fantastic support and service from everyone I have dealt with at Jumar.
Michael
Lead Solutions Architect
Been extremely helpful, constant communication and very re-assuring.
Nick
Project Manager
You are professional, efficient and personable and I think you deliver good outcomes for all your clients, contract- and customer-side.
Michele
Business Analyst
Submit your CV
We are always looking for the best talent in technology, and welcome CVs from industry professionals across the development lifecycle. Submit your CV via the 'Sign up' link below
All CV submissions will be subject to our data retention policy and always in line the applicable data protection legislation. For more information, please email privacy@jumar.co.uk