Jumar is awarded Solution Partner | Digital and App Innovation on Azure
In March 2022, there was an announcement that the Microsoft Partner Network programmes would evolve to help Microsoft Partners meet the ever-changing needs of customers going forward. This became the Microsoft Cloud Partner programme which launched in October 2022, with the aim of bringing partners across the globe together to deliver Microsoft software and services to their customers.
The Microsoft Cloud Partner programme allows organisations to stand out in a complex and crowded market and enables them to earn Microsoft Solutions Partner designations. These designations support businesses to expand, identify further needs of customers, differentiate their go-to-market approach and win new customers.
There are six available designations available aligned to six solution areas which include:
Solutions partner for Security

Solutions partner for Modern Work

Solutions partner for Business Applications
Solutions partner for Data and AI (Azure)

Solutions partner for Infrastructure (Azure)

Solutions partner for Digital and App Innovation (Azure)
Jumar has been awarded the designation, Solutions Partner for Digital and App Innovation (Azure). This designation badge was awarded through a combination of performance, achieving new technical certification, training and deploying workloads and systems into Azure.
Although Jumar remains a Microsoft Gold Partner, the Cloud Partner Program has now replaced the Microsoft Partner Network and competencies have now been replaced with the new designations.
The team at Jumar are currently working towards other designations and obtaining specialisms which display technical expertise and skill in the designated areas.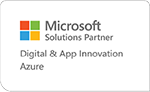 Source: Introduction to the Solutions Partner designation