Ensure strong project governance using our best-in-class processes and techniques, or embed our skilled project managers in your team to support in-house programme delivery.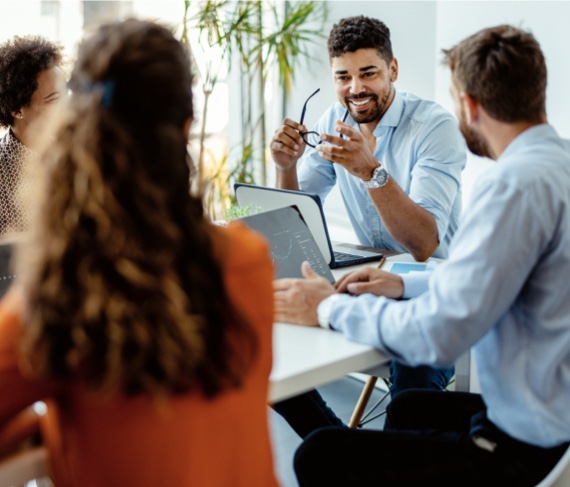 Our expertise
Our Project Management team combines real-world experience with industry-leading processes and tools, enabling us to tailor our approach to fit your individual project and deliver the best possible outcome.
The result is a scalable (methodology and technology agnostic) project framework that can be applied to engagements of any size and complexity.
Service offering
An in-depth, time-boxed assessment of your project management capability undertaken by our experienced practitioners. Whilst each engagement is different – the core areas usually assessed are people, methodology, processes, ways of working and tools. Assessments are made against a mutually agreed recognised project management framework. The output is typically a report and presentation, detailing findings and including actionable recommendations and insights.
Whether Jumar led or client led, Jumar's Project Management team manages risk, issues and dependencies, to ensure the right outcome is achieved. High-quality project outcomes are assured by the adoption of industry-leading processes, independently audited under our ISO 9001 accreditation. Methodologies and techniques include Agile – Scrum, Kanban, SAFe and Waterfall – Prince2. The tracking and reporting of project elements (MI covering milestones, change, financials, resource, etc.) result in projects that meet the business objectives on time and within budget.
Our approach
Flexibility is central to Jumar's approach – the Project Management practice can engage according to your objective and internal capabilities – from full managed service, whereby the tools, people and ways of working are the responsibility of Jumar, through to augmentation, whereby the client utilises Jumar's expert resources to augment its own team.
Why Jumar
Experienced
Highly experienced in-house team with significant domain knowledge in insurance, retail banking and Government
Reliable
A tried-and-tested Project Management framework
Partnerships
A long-term partnership approach that puts the client outcome first
Bespoke
A technology agnostic approach, not aligned to any vendor or tooling, enables the team to genuinely advise upon and deliver the best outcome